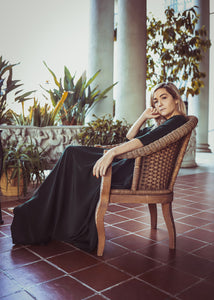 A note from the founder
I set out to create a clothing line that expressed the spirit of my values as a modern woman. I've spent my adult life traveling the globe and have been privileged to experience the beautiful traditions and cultures that have shaped the artistic styles which define the eastern and western worlds. The bridge between these worlds has shaped my identity and by extension has inspired and translated into the heart of ANNA VESE. In the divide between the east and west, values are simultaneously in opposition and in harmony with one another. This seemingly contradictory relationship embodies the universal appeal of art. A story about humanity. A story about where we've been, where we are, and where we are going.
Kaftans have been a staple in the wardrobes of noblewomen, actresses, and royalty for over a millennia. The origins date as far back as 600 B.C. in Persia, and kaftan's have been reinvented by countries throughout Eurasia and the West for centuries. In the early 20th century kaftans popularized mainstream fashion. Cosmopolitan designers created their own versions of the timeless garment. Many icons throughout the 50's and 60's like Elizabeth Taylor, Jacqueline Bisset, and Grace Kelly were often photographed in the glamorous gowns on the red carpet and magazine covers.
I created ANNA VESE to reinvent this timeless garment yet again, so that it can return to its origins as high fashion's signature piece of elegance for the modern woman in the 21st century. ANNA VESE fuses the regal elegance of eastern fashion with the stylish comfort of California chic, creating the perfect balance of high fashion and effortless comfort. Each of our designs are meant to celebrate modern fashion while preserving the kaftan's historic multicultural symbolism.
True to its values, ANNA VESE supports women's organizations around the world focusing on providing better health care, education, and human rights for women. It is our mission to serve as an ambassador for women and equality.
Thank you for coming on this journey with us.
Sincerely yours,
Brittany Somerville